A workshop is plaisir and shared moments around photography. That must be true whatever the moment, during shooting, editing, or studying works from very well known photographers. It is a very intense job for me as it requires to have everybody with a a high level of motivation but satisfaction.
Photography gives people very positive feelings even if you can suffer from the difficulty and hard work it needs to achieve a satisfactory level. It is above all something deep in you but also shared with other people.
Good mood and strong commitment will definitely help to improve.
People should not pass on hardware technical aspects as it is a key requirement to build your "vision".

Since 2003, Eric Bouvet organize master classes to photographers (beginners, semi pro and professionals) who want to spent few days with professional in order to deepen their photographic skills.


Besides his experience in photo reportage, Eric led more than 80 workshops in differents structures as the Rencontres d'Arles.

More than any other kind of photography, perhaps, reportage demands of the photographer a real ability to observe and capture a given situation. Any successful account of an event, a context or people engaged in some form of activity depends on the capacity to spot a number of crucial elements, often of brief duration, which suffice to convey the content and meaning of the subject.
Eric Bouvet will show participants how to develop their powers of observation, how to function in specific settings and how to overcome the technical constraints involved. Practical exercises will place particular stress on lighting and framing.

In more general terms the workshop will revolve around the photographer's involvement with situations: how he makes his way into a context, how he participates and how he can make chance work for him. This will also involve making revealing artistic choices which will determine the work's full scope.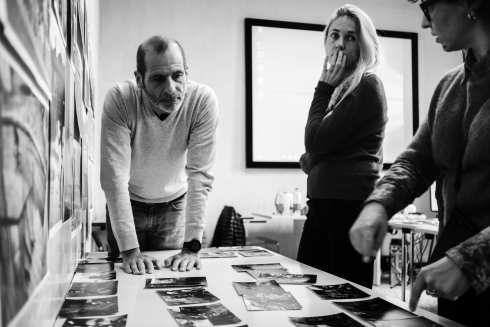 Each day participants will come together to take photographs under the direct supervision of Eric Bouvet.

Alternating sessions of photography and of analysis of the previous day's images, participants will polish both their technique and their approach, notably by receiving direct feedback on the way their work is seen by others. Eric will give a professional point of view on your productions.

The workshop will also include exercises based on the contact sheets of Eric Bouvet's own reportages. This will provide an opportunity to compare a range of choices: those of the photographer himself and of different photo editors who have published his work.



CONTENT


Presentation of the photographer's profession


Technical exercises


Analysis and practical evaluation of the participant's previous work


Daily photo sessions, technical counselling


Individual and group analysis of the previous day's pictures

Selection of images with a view to creating a series


Final one-to-one interview
BRING


Photographs, portfolio, press book, etc., indicative of your level.


Films and/or digital cameras


Participants working with digital material can bring a laptop computer for storing their images.